ATTN: Winning bidders living outside the U.S. and Canada can have this Pricebenders item shipped for free to a U.S. address! Alternately, international winners of this item can choose to participate in our Gift Certificate Exchange or the "Your Choice Dropshipping" program.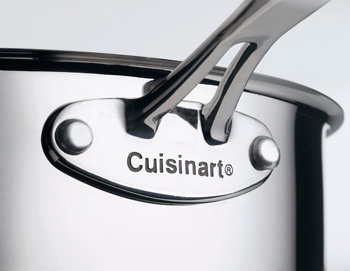 Bring the good life home with this Cuisinart Chef's Classic Stainless 10-Piece Cookware Set. Inspired by the great French kitchens, Cuisinart cookware is constructed of the finest materials available, designed to last a lifetime. Exclusively designed aluminum encapsulated base provides superior heat conductivity and even heat distribution to meet the demands of gourmet chefs everywhere!
This versatile 10-pc. set lets you cook several dishes at once in portions large and small. Two saucepans, two skillets, a saute pan and stockpot make preparing a variety of meals easy.
Product Features: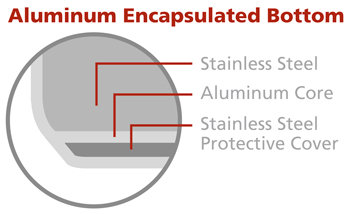 Unsurpassed Heat Distribution
Pure aluminum encapsulated base heats quickly and spreads heat evenly. Eliminates hot spots.
The Coolest Touch in Home Cooking
Cast stainless steel Cool Grip stick handles are contoured for a secure grip and designed to stay cool on the stovetop.
Superior Cooking Surface
Stainless steel cooking surface does not discolor, react with food, or alter flavors.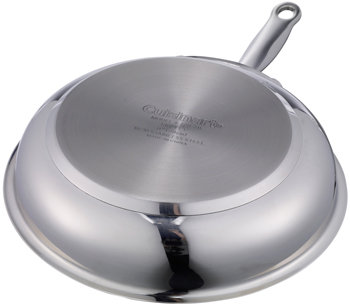 Perfect Balance
Riveted stainless steel handles, including side grips and helper handles, are professionally riveted to ensure a lifetime of perfect balance.
Flavor Lock Lid
Tightfitting stainless steel lids fit tight to lock in flavor, texture and nutrients. Wide, easy grip handles.
Versatile Performance
Oven safe to 500°F. Cook on stovetop, in oven, or under broiler. Freezer safe for easy food storage.
Dishwasher Safe
Brilliant stainless steel comes out of the dishwasher looking like new.
Drip-Free Pouring
Rims of cookware are tapered to make pouring clean and easy.
About the Pieces:

8 and 10 inch Open Skillets: The ideal choice for browning and frying, skillets are a cookware classic.
1-1/2- and 3-Quart Saucepans with Covers: No other piece of cookware performs with the versatility of a saucepan. It is a kitchen essential, working hard from morning until night.
3-1/2-Quart Sauté Pan with Helper Handle & Cover: The high, straight sides and the flat cooking surface of the saute maximize capacity. Sear meats, poultry, and more; cover to simmer for a perfect finish.
8-Quart Stockpot with Cover: Round out a cookware assortment with this 8 quart stockpot. The perfect size for everyday cooking or a crowd.
What's in the Box

* 1-1/2-quart saucepan with cover
* 3-quart saucepan with cover
* 3-1/2-quart sauté pan with helper handle and cover
* 8-quart stockpot with cover
* 8" open skillet
* 10" open skillet
ATTN: Winning bidders living outside the U.S. and Canada can receive this or a similar product (or an item of their choice at a comparable price) through our "Your Choice Dropshipping" program.