ATTN: Winning bidders living outside the U.S. and Canada can have this Pricebenders item shipped for free to a U.S. address! Alternately, international winners of this item can choose to participate in our Gift Certificate Exchange or the "Your Choice Dropshipping" program.
Smart is sexy with the Pebble Steel!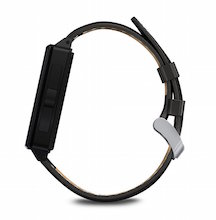 The Pebble Steel brings smart function and elegant form together. Ruggedly handsome, Pebble Steel is crafted from marine-grade stainless steel and Corning Gorilla Glass, so it's as tough as it is good looking--and its battery lasts up to 7 days on a single charge. It's built with the same brains as Pebble, so you get notifications at a glance as well as the latest scores, your Starbucks card, or even your airline boarding pass on your wrist. Pebble's Timeline interface arranges all of your daily events, reminders and notifications in an easy-to-read chronological view.
Leave your phone in your pocket...
We all need to be connected and accessible, but pulling out your phone at dinner to check a text message or incoming call is so 2010! With Pebble Steel, just a quick glance lets you read messages, see who's calling, or check important emails...and never miss a beat. Plus, hundreds of free apps widen the Pebble's abilities even more--check the weather, stocks, train schedule, and lots more. And yes, it also tells the time--with nearly 1,000 watchfaces to suit your style.
Perfect for meetings, underwater...
Ridiculous, right? Pebble Steel doesn't think so. It's waterproof up to 5 ATM (approx. 165'), so you can still be in the loop, even while doing laps in the pool. Pebble Steel is perfect for things like running in the rain or boating, while keeping your phone tucked away and dry. And while we're on the subject of exercise, Pebble Steel also syncs with popular apps like RunKeeper, letting you track your progress from your wrist.
Works with your iPhone or Android Smartphone
* Connects wirelessly via Bluetooth with iOS and Android Smartphones
* iPhone (iOS6 and up)
* Android (OS 4.0 and up)
Apps for Everything—Pebble App Store: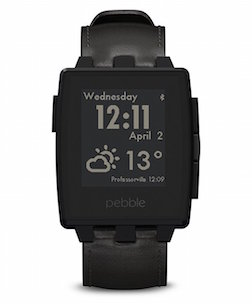 Discover thousands of apps and watchfaces to customize Pebble Steel to fit your life. Check sports scores with the ESPN app, listen to your music, or start voice navigation without having to touch your phone. Health and fitness apps like Misfit, Jawbone, and others let you track steps, activity, and sleep.
Popular sports apps like RunKeeper and FreeCaddie help you track performance and enjoy what you love.
Check in on FourSquare with a single click or find a place to eat on Yelp! Pebble is an open platform, so new apps are always in the works from our development community and partners, letting you take advantage of new watchfaces, games and other innovations.
Control your favorite music apps—including iTunes, Spotify, and Pandora—from your Pebble without missing a beat while running, cycling or just playing music from a dock at home.
Even Easier with Timeline:
Pebble timeline collects all of your daily appointments, notifications, and events and arranges them in a single, easy-to-read chronological view, accessed the by the same easy-access Up and Down buttons that you scroll through watchfaces and menus. The Select button takes you to the main menu, which includes music, control, alarm, and settings. A simple tap on the watch or the flick of your wrist will illuminate the backlight.
* Read texts, notifications and incoming calls
* Control your music right from your wrist
* Swim, shower, or run in the rain
* Go up to a week without charging
* Read your display in direct sunlight or total darkness
* Play games, check scores, and more
In the box:
* Pebble Steel Smartwatch
* Leather Band
* Custom USB Charging Cable
* Quick Start Guide