ATTN: Winning bidders living outside the U.S. and Canada can have this Pricebenders item shipped for free to a U.S. address! Alternately, international winners of this item can choose to participate in our Gift Certificate Exchange or the "Your Choice Dropshipping" program.
Welcome to the new Apple TV. It's where TV is headed.
The future of television starts here. You already use apps like Netflix, Hulu, HBO NOW and WatchESPN to watch TV on your mobile devices...and that's where TV on your big screen is headed. The new Apple TV is designed around this reality.
A TV experience you've never experienced.
Until now, finding a movie or show to watch was a burden. You had to do all the scrolling, button pushing, searching, and digging. The new Apple TV is designed to take the work out of watching TV. Simply ask Siri to find something for you. Bypass all those confusing buttons with a swipe of your thumb. It's an experience that makes you feel like you're interacting directly with the screen, even though it's on the other side of the room.
Feel fully immersed in your screen. Even from across the room.
Many of the products we make — iPhone, iPad, Apple Watch — are built around the same profound experience: connecting you directly with what's on your screen. Simple, natural movements of your finger play a big role in that. But how do you create that same immersive experience with a screen that's hanging on the wall 10 feet away? The new Apple TV interface solves that fundamental challenge by using Touch and voice to re-imagine how you interact with your TV screen.
Touch. The most natural way to navigate.
The glass Touch surface on the new remote was engineered to provide an experience that feels both fluid and precise. What your finger does on the remote is exactly and immediately what it does on your screen. It's so natural, in fact, that your eyes don't even need to look down. You never have to hunt for a button to press or have a light on to see.
Voice. The most efficient interaction tool ever.
There's no easier way to interact with something across the room than using your voice. The Siri Remote lets you do what's natural--just say what you want to watch. Siri takes you right where you want to go without having to click through multiple menus to get there. But that's just the beginning. Ask Siri to show you sports scores, control playback, pull up the weather, access your settings, and even check your stocks. Tell Siri to Reduce Loud Sounds, which boosts dialogue and softens music and sound effects, so you don't wake up the whole house when you're watching a late-night movie. Or if you can't understand a line from a show, ask "What did he just say?" Siri will skip back and temporarily turn on closed captioning, so you can see what you missed.
A clean design that brings your content to life.
Screens throughout the new Apple TV have been designed to let the content be the hero. And the use of parallax makes movie and TV show posters visually come alive while clearly showing you where you are on the screen. You'll feel like you're interacting directly with your TV screen, not separated from it.
The only remote you'll need.
Navigating your TV with Touch is such a pleasure, you won't want to put the remote down. And you don't really have to. That's because the Siri Remote can control the volume on your TV or A/V receiver — as well as turn it on or off. Which means no more juggling multiple remote controls. And thanks to Bluetooth, you don't have to worry about where you point the remote. The new Apple TV picks up your commands from anywhere in the room.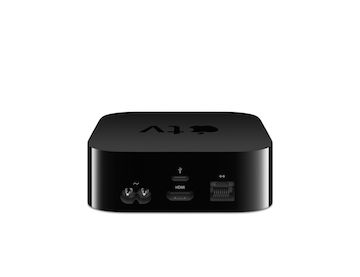 PRODUCT SPECIFICATIONS
Apple TV box:
* Processor: Apple dual-core A8 chip
* Capacity: 32 GB * HDMI 1.43
* 802.11ac Wi‑Fi with MIMO
* 10/100BASE-T Ethernet
* Bluetooth 4.0 wireless technology
* IR receiver
* USB‑C for service and support
* Built‑in power supply
* Dimensions: 1.4 inches high x 3.9 inches wide x 3.9 inches depth
* Weight: 15 ounces
Siri Remote:
* Bluetooth 4.0 wireless technology
* IR transmitter
* Accelerometer and gyroscope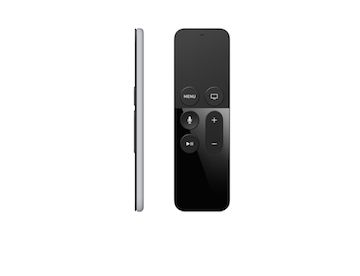 * Lightning connector for charging
* Rechargeable battery for months of battery life on a single charge
* Dimensions: 4.88 inches high x 1.5 inches wide x 0.25 inch depth
* Weight: 1.66 ounces
What you will need:
* HDMI cable
* High-definition TV with HDMI
* Wired or wireless network
* See Networking
* iTunes purchasing and renting; Home Sharing require iTunes Store account
* Broadband Internet connection (fees may apply)
What's in the box:
* Apple TV
* Siri Remote
* Power cord
* Lightning to USB Cable
* Documentation
ATTN: Winning bidders living outside the U.S. and Canada can receive this or a similar product (or an item of their choice at a comparable price) through our "Your Choice Dropshipping" program.