ATTN: Winning bidders living outside the U.S. and Canada can have this Pricebenders item shipped for free to a U.S. address! Alternately, international winners of this item can choose to participate in our Gift Certificate Exchange or the "Your Choice Dropshipping" program.
If you're looking for serious power in a compact design, look no further. Black+Decker's Pivot vacuum has the strong suction power--provided by the 20V MAX lithium ion battery--needed to clean up a variety of messes, a lightweight design for easy carrying, and a compact standing charging base that can be stored within easy reach.
On board tools - Easy to Clean
The 20V MAX* Lithium Pivot comes with an onboard crevice tool and brush that are always at hand to tackle any mess, while a distinctive pivoting nose feature enables easy cleaning for all those hard to reach areas, such as under cupboards, above tall shelves, and in between couch cushions. Simply place the Pivot in its stand to charge. Finally, for a more thorough clean, simply remove the entire bowl from the unit and wash it in your sink. Filter flicker loosens embedded debris from filter to improve suction power. the bowl is easily removed and washable.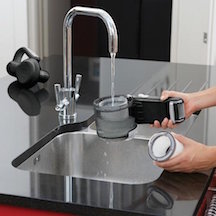 20V MAX* Lithium Pivot Vac
The always-ready and convenient 20V MAX* Lithium Pivot Vac is perfect for handy cleaning anywhere and anytime. The pivoting features allows you to get into those hard-to-reach spaces, and the high-performance motor delivers strong suction for messes big and small.
Convenient Pivot Action
An exclusive pivoting nozzle means huge power in a compact size lets you reach those hard to access areas. Its high performance motor provides superior suction capability when compared to other Black+Decker cordless hand vacs. The cyclonic action spins dust and debris away from the filter keeping suction power strong.
Crevice Tool and Brush
This Pivot Vac offers a 3-stage filtration system with a pleated filter design offers superior filtration for clean air exhaust. The wide mouth design scoops up large debris and simply flip up the brush to clean upholstery or extend the crevice to access tight spaces. This unit also has a quick charging base that keeps the unit charged and accessories organized.
Lithium vs NiCad
Other types of batteries fade and lose suction, making it difficult for users to complete their cleaning task before running out of power. Instead, Lithium Ion batteries offer strong suction and fade-free power throughout their use. Users will now have the confidence that they can complete tasks quickly, efficiently, and conveniently with this new Flex Vac.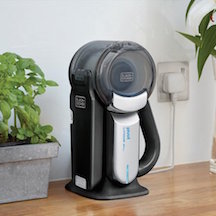 IN THE BOX:
* Vacuum
* Washable filter (model PVF110)
* Pre-filter
* On-board Brush
* On-board Crevice Tool
* Charging Base
ATTN: Winning bidders living outside the U.S. and Canada can receive this or a similar product (or an item of their choice at a comparable price) through our "Your Choice Dropshipping" program.