ATTN: Winning bidders living outside the U.S. and Canada can have this Pricebenders item shipped for free to a U.S. address! Alternately, international winners of this item can choose to participate in our Gift Certificate Exchange or the "Your Choice Dropshipping" program.
A great deal for movie lovers and TripleClicks members alike: a Roku 3500R Streaming Stick (HDMI) & 50 TCredits you can use to bid on Pricebenders auctions, purchase products, post member listings, and more!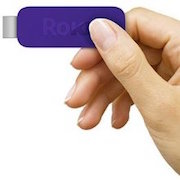 Roku 3500R Streaming Stick (HDMI)
The all-new Roku Streaming Stick--it's the stick that streams the most! Just plug in, and start streaming loads of entertainment to your TV.
Enjoy 2,000+ channels with the most movies, TV episodes, music, news, sports, kids' shows and free programming of any streaming player all in up to 1080p. Control your entertainment from your smartphone with the free Roku app, or use the included remote that everyone can share. Even cast videos from mobile apps, such as Netflix and YouTube, from your phone straight to your TV. And with features like one-stop search, channel shortcut buttons, and extended-range wireless, you'll fall in love with the simplest, speediest streaming experience out there.
TV the way you want it!
The biggest streaming channel lineup. Access to 250,000+ movies and TV episodes on demand. The widest selection of free, subscription, and rental channels.
Tiny stick. Big entertainment.
Fits perfectly behind wall mounted TVs. Includes Enhanced remote with channel shortcut buttons.
More channels than any other streaming player.
2,000+ channels. Watch what you love. Pay only for what you want.
Take it with you.
No wires, no fuss. Compact design fits behind almost any TV with HDMI.
Stunning HD.
Rich, vibrant video streaming with up to 1080P HD.
Your stuff on TV.
Beam photos, songs, and videos from your phone or tablet to your TV.
ATTN: Winning bidders living outside the U.S. and Canada can receive this or a similar product (or an item of their choice at a comparable price) through our "Your Choice Dropshipping" program.
50 TCredits
TripleClicks TCredits are ESSENTIAL for taking full advantage of the services available to TripleClicks members. You can use your TCredits for member listings, to bid on Pricebenders Auctions, to participate in contests, and more.
FOR ALL THE GREAT WAYS TO USE YOUR TCREDITS, SEE:
www.tripleclicks.com/MightyTCredits.php
NOTE: You can use your TCredits as you wish and at any time, but they do expire one year from purchase.