ATTN: Winning bidders living outside the U.S. and Canada can have this Pricebenders item shipped for free to a U.S. address! Alternately, international winners of this item can choose to participate in our Gift Certificate Exchange or the "Your Choice Dropshipping" program.
You'll LOVE this highly innovative ultrasonic humidifier! The Avalon Digital Cool Mist Humidifier with Filter lets you choose warm or cool mist settings, adjust the level of humidity, and decide among three mist levels. The 5-liter tank, easy-to-read display, convenient remote, nightlight, and built-in 12 hour timer make the Avalon a cinch to use, while the double 360 degree mist outlets allow for better humidity dispersal of up to 40-50 square meters. The advanced technology filter reduces 90% of the limes in the water and the convenient carry handle make refilling the humidifier easy.

PRODUCT FEATURES
* Powerful cool mist + 5 liter tank
* Built-in filter to reduce 90% limes in water
* 12-hour timer and 3 mist level settings
* Double 360-degree mist outlets for better humidity
* Auto shut-off when water tank is empty
Safe for Children
The Avalon Ultrasonic Digital Cool Mist Humidifier is kid-friendly with an easy-to-use touch panel or remote making it ever so simple for kids and adults alike to use. The humidifier is ETL listed and approved for utmost safety.
Great for the Bedroom
The Avalon Ultrasonic Digital Cool Mist Humidifier has a great coverage area. It's been tested and proven to reduce the symptoms of cough and congestion when placed in your bedroom. It's elegant slim design will look perfect in your bedroom.
Perfect for the Home
The Avalon Ultrasonic Digital Cool Mist Humidifier will look great anywhere in the house with its slim design and unique look. The digital display along with the remote give you better access to the unit as well.
Double Rotating Mist Outlet
The double rotating mist outlets allow for full coverage in any 2 different directions you choose.
Carry Handle - Easy Refill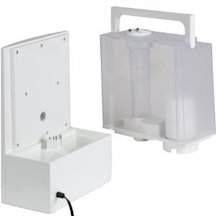 The tank has a carry handle making it so convenient to remove the tank for refilling. The refill inlet is also much larger than standard humidifiers making the refill process so easy. There is a cleaning brush for gently cleaning the ultrasonic disc located on the underside of the water tank.
Built-In Replaceable Filter
There is a large filter that can be screwed onto the inside of the tank cap to ensure clean water with minimal buildup of minerals. This will help keep bacteria from forming inside the tank and will keep away foul odor from the water in the tank.
ATTN: Winning bidders living outside the U.S. and Canada can receive this or a similar product (or an item of their choice at a comparable price) through our "Your Choice Dropshipping" program.