ATTN: Winning bidders living outside the U.S. and Canada can have this Pricebenders item shipped for free to a U.S. address! Alternately, international winners of this item can choose to participate in our Gift Certificate Exchange or the "Your Choice Dropshipping" program.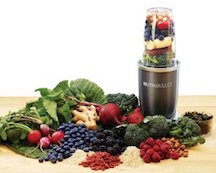 The NutriBullet System is quite simply the best product out there to make healthy, nutritious drinks that can help you fight and prevent disease, lose weight, relieve joint pain, promote healthy, younger-looking skin, and even add years to your life. The secret is the NutriBullet's exclusive extractor technology which uses a 600 watt motor with cyclonic action and the patented extractor blades. This technology breaks down and pulverizes the stems, seeds, and skins where most of the essential nutrition lies-- unlike what juicers and blenders do. Simply add your favorite fruits, vegetables and boosts (nuts, seeds, herbs) to the NutriBullet, along with some water, and extract the ingredients into smooth, tasty drink. And the best part is a NutriBlast takes only seconds to prepare, seconds to clean and couldn't be easier to take on the go.
Why extract food? Eating extracted food is great for EVERYONE in any state of health--from top performing athlete to someone suffering from fibromyalgia--because extracted food is virtually predigested, so your body can effortlessly absorb and utilize all of the nutrition that food has to offer. Even when we eat the healthiest foods, like a salad for example, it's a lot of work for the body to break that salad down to get it ready for absorption into the body. When we prepare extracted foods with the NutriBullet, the foods are consumed in their most absorptive state, so we get the nutrition WITHOUT having to rely on proper chewing, effective stomach acids, digestive enzymes and the like to break down the food. It's done for us!
12-Piece Set Includes: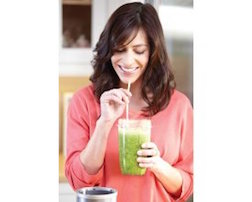 * High-torque Power Base
* Extractor Blade
* Milling Blade
* Tall Cup
* Short Cups (2)
* Handled Lip Ring
* Regular Lip Ring
* Stay-fresh Resealable Lids (2)
* User Manual & Cookbook
* Pocket Nutritionist
Features:
* Busts open seeds
* Cracks through stems
* Shreds tough skins
* Breaks down even the toughest ingredients to unlock the vital nutrition inside
Specifications
* Wattage Output: 600 Watts
* Number of Speeds: 1
* Capacity (volume): 3 Cups
* Appliance Capabilities: Shredder, Blends, Grinds, Chops
* Material: Plastic (BPA-Free)
* Care and Cleaning: Dishwasher Safe Parts
* Base Dimensions: 5.375-inch diameter x 8-inch height
* Weight: 3.6 lbs
ATTN: Winning bidders living outside the U.S. and Canada can receive this or a similar product (or an item of their choice at a comparable price) through our "Your Choice Dropshipping" program.