ATTN: Winning bidders living outside the U.S. and Canada can have this Pricebenders item shipped for free to a U.S. address! Alternately, international winners of this item can choose to participate in our Gift Certificate Exchange or the "Your Choice Dropshipping" program.
Get up, get moving, and feel GREAT with this special deal for TripleClicks members looking to get fit and feel better: Shaun T's CIZE Base Kit Dance Workout Program AND 50 TCredits you can use to bid on Pricebenders auctions, purchase products, post member listings, and more!
Shaun T's CIZE Dance Workout Kit
Stop Exercising...Start Dancing! Shaun T's CIZE Base Kit Dance Workout Program is the END of exercise as you know it. Designed for everyone, CIZE makes exercise something to look forward to! Professional choreographer and trainer Shaun T breaks down dance courses step-by-step, move-by-move, so that anyone can dance their way to fit in just four weeks.
CIZE may be the end of exercise--but it's not the end of hard work. CIZE keeps you moving the whole time by constantly introducing new moves that give you cardio training, strengthen your core, and tone every muscle--all at once. You'll be so in the zone mastering the moves, you'll forget you're working out--and getting in the best shape of your life. The more you get into it,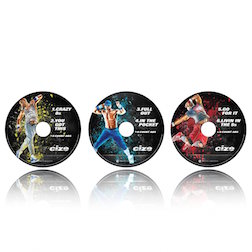 the more you get out of it.
Plus, as the courses progress, they get more challenging. And that means more moving, more sweating, and more calories burned!
* Six Dance courses and an Ab Workout on 3 DVDs
* Get Started and Eat Up Guide
* Beginner and Advanced Calendar
* Weekend Survival Guide
Six Dance Courses and an Ab Workout on Three DVDs
The CIZE cast makes it fun to learn to dance in these exhilarating, calorie-scorching dance courses. They break down each routine, step-by-step, move-by-move, slowly building up to a full combination. At the end of the session, you'll perform a full routine to a song from the CIZE playlist. But don't be fooled, as the program progresses, the courses get more challenging. You'll get better each time--and by the end, you'll be totally confident in your dance skills and sexy body.
1. Crazy 8s: 35 minutes of dancing and sweating to our favorite moves, many of which you'll see throughout the program. At the end you get to perform the routine to "Hands In The Air" originally recorded by Timbaland.
2. You Got This: We pick up the pace and give you an intense sweat, with fresh moves and a whole new vibe. You'll put it all together to "Treasure," originally recorded by Bruno Mars.
3. Full Out: You've made it to Level 2 so get ready to get winded and wowed in this over-the-top, all-out, sweaty dance routine set to "Lose My Breath," originally recorded by Destiny's Child.
4. In The Pocket: Crank up the energy and the pace. Now you're ready for even more new dance moves created and inspired by professional dancers, all choreographed to "Problem," originally recorded by Ariana Grande.
5. Go For It: Ready to challenge yourself and show off your moves front and center? Before you know it, you'll be performing to "Pass That Dutch," originally recorded by Missy Elliott.
6. Livin In The 8s: CIZE can teach anyone to dance--any style--any pace--to any type of music. This final routine is a completely different dance experience, with an emotional finale to Sia's "Chandelier." Get ready for your music video.
7. Eight Count Abs Workout: Strong abs and core are key for every great dancer—and sexy body! Work your abs on the floor and then perform the ab sequence to the song "Headsprung," originally recorded by LL Cool J.

Get Started Guide
Get started on the right foot for your best results and track your transformation in this step-by-step guide. 30 days goes fast, so you won't want to skip this move.
Eat Up! Meal Plan

To get that dancer's body as soon as possible, you'll need this secret weapon. With the Eat Up! Meal Plan, losing weight is easy and delicious—and you're in control.
Beginner And Advanced Calendar

Use the Beginner calendar when you want to go at your own pace. Then after each course, rate your dance skills, 'backup dancer', 'front and center', or 'ready for my music video' to track your progress.
Use the Advanced calendar if you are looking for more of a challenge and a bit more structure to know which course to do on which days to keep progressing.

Weekend Survivial Guide
Don't let the weekend ruin all your hard work from the week. Learn the Do's and Don'ts of a night out on the town, so you can go out and have fun without sabotaging your results.
ATTN: Winning bidders living outside the U.S. and Canada can receive this or a similar product (or an item of their choice at a comparable price) through our "Your Choice Dropshipping" program.
50 TCredits

TripleClicks TCredits are ESSENTIAL for taking full advantage of the services available to TripleClicks members. You can use your TCredits for member listings, to bid on Pricebenders Auctions, to participate in contests, and more.
FOR ALL THE GREAT WAYS TO USE YOUR TCREDITS, SEE:
www.tripleclicks.com/MightyTCredits.php
NOTE: You can use your TCredits as you wish and at any time, but they do expire one year from purchase.