ATTN: Winning bidders living outside the U.S. and Canada can have this Pricebenders item shipped for free to a U.S. address! Alternately, international winners of this item can choose to participate in our Gift Certificate Exchange or the "Your Choice Dropshipping" program.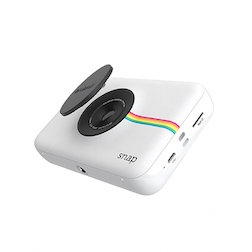 Get nostalgic Polaroid instant photography in a modern package! The Polaroid Snap instant digital camera captures all the fun and spontaneity of the legacy Polaroid instant camera in an easy, compact package. Simply point and click for Zero Ink printing of vibrant, high-quality photos that you can share. The Polaroid Snap is extremely fast, allowing you to shoot a new photo while it's printing the previous shot. Or you can use its timer to set up the perfect selfie. Six different capture modes, including black-and-white and a vintage-look sepia tone, allow you to add an artistic touch to your instant prints.
Striking Minimalist Design
True to the rest of the brand's modern line, the Polaroid Snap camera's minimalist design features an updated look that incorporates a number of design elements of legacy Polaroid instant cameras, such as the iconic Polaroid Color Spectrum.
10MP and Up to 32GB
Instantly share your life with loved ones in vivid color with features such as a 10MP sensor, a micro SD card slot (32GB max), various capture modes and photo booth mode, Polaroid Classic Border Logo printing format, and an instant selfie self-timer.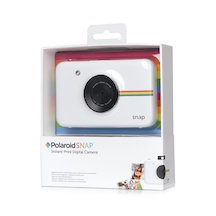 ZINK Zero Ink Printing
The integrated ZINK printer enables you to instantly print full-color, smudge-proof 2x3" prints automatically when an image is captured - without ink cartridges, ribbons or toner. You can even shoot new images while the Polaroid Snap is printing.
Post Anywhere
The 2x3" prints are ready in under a minute, and their adhesive backing makes for extra fun and easy posting on most surfaces. Your photos are also saved on the Polaroid Snap for easy uploading to your computer and social media platforms.
ATTN: Winning bidders living outside the U.S. and Canada can receive this or a similar product (or an item of their choice at a comparable price) through our "Your Choice Dropshipping" program.